ASEAN Economic Integration : Trade, Foreign Direct Investment, and Finance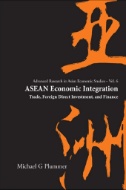 Title

ASEAN Economic Integration : Trade, Foreign Direct Investment, and Finance

Author

Plummer, Michael G.

Publisher

World Scientific Publishing Company

E-Book Keywords

economic integration % economic relations % poverty % AEC %

ISBN/ISSN

9789812569103. 9789814289184.
Given the rapid emergence of regional economic arrangements in Asia, especially in Southeast Asia, it is useful to understand clearly what regionalism implies for the region, as well as to take stock as to the far-reaching and complicated effects of formal economic cooperation and integration. This book allows the reader to better understand the relevant international policies of the Southeast Asian economies, and to appreciate the potential lessons for other developing regions. It also focuses on the regionalism trend with an explicit application to ASEAN, as well as the implications of regionalism in the developed countries.The goal of this book is to survey the economics and political economy of regionalism in the ASEAN context from a variety of perspectives and using various techniques, from standard economic analysis of preferential trading arrangements to the political economy analysis of institutions. Its approach is comprehensive in that it includes ASEAN economic integration in the areas of trade, foreign direct investment, and finance. Presentation of the material is designed to be accessible to non-technical audiences without sacrificing the rigor expected by economists and other experts.Contents:Introduction and OverviewTrends in ASEAN Economic Cooperation:ASEAN Economic Integration in a Global Context: Trade, Investment, and Policy IssuesAligning ASEAN Commercial Policies in the AECASEAN Investment CooperationBond Market Development and Integration in ASEANASEAN Stock Markets: Trends in ConvergenceRelations with Dialogue Partners:Integration Strategies for ASEAN: Alone, Together, or Together with Neighbors?The ASEAN Economic Community and the European ExperienceASEAN and the United States: The Economics of the Enterprise for ASEAN InitiativeReadership: Academics, economists, policy makers and private sectors interested in Asian cooperation issues.
comments powered by

Disqus